The 'It's in Nottingham' digital city hub will use smartphone apps, big data and IoT to better connect residents to everything the city has to offer.
Summer 2023 is an exciting time for the city-based team, who relaunched their It's in Nottingham brand – a consumer and business facing identity – with a new website and brand structure. In addition, and enhancing the team's offer to city residents and visitors, the team launched the 'It's in Nottingham' digital city hub.
The hub will help around 500 city-centre businesses to engage directly with local residents through what will be the city's official smartphone app.
Not only will businesses be able to self-publish their profile, events and offers, they will be able to send in-app messages, participate in online business forums and, in due course, sell goods and services through the platform too.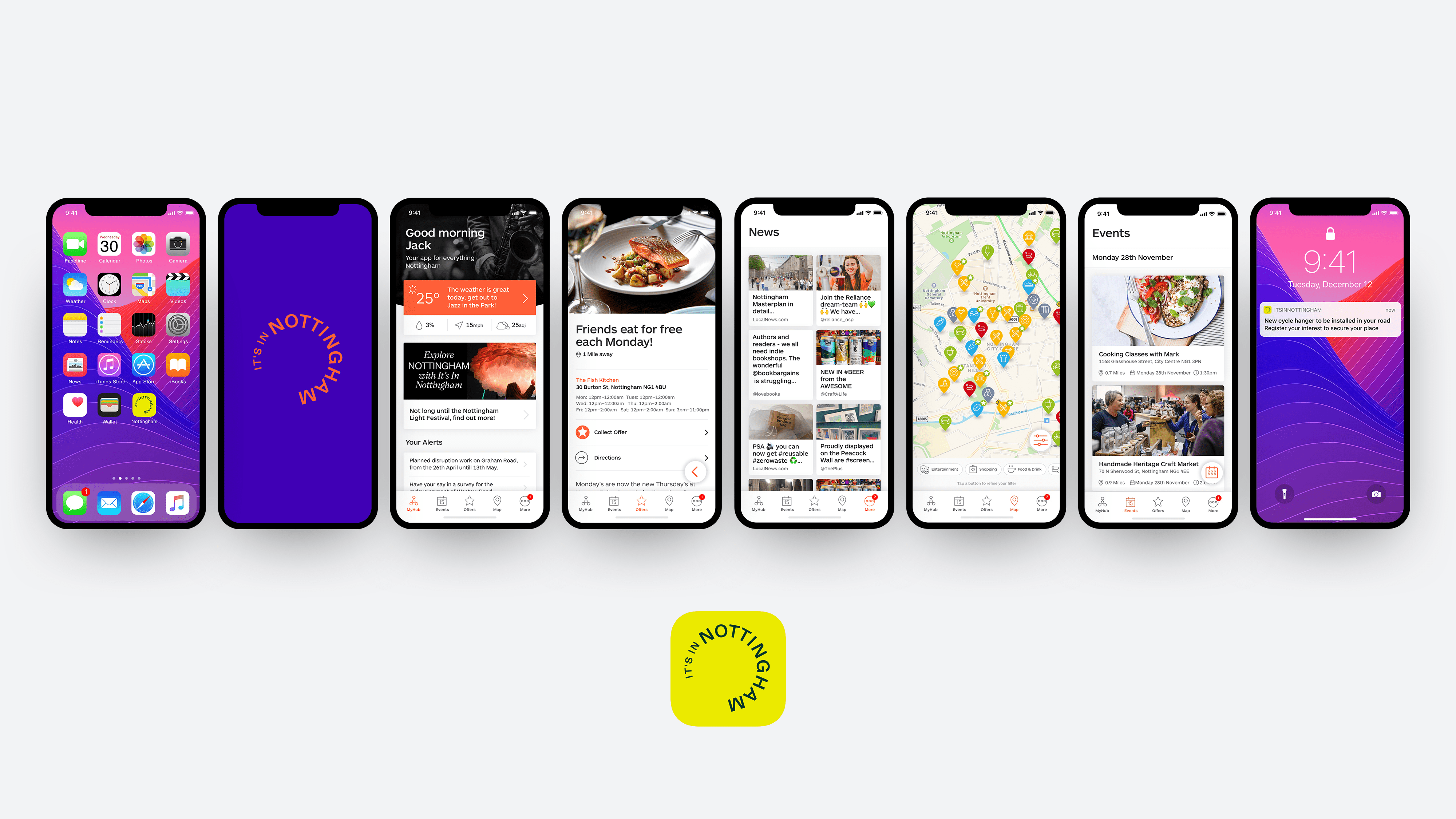 "Nottingham needs to have greater control over the digital capabilities a modern city needs to function effectively." says Alex Flint, CEO of It's in Nottingham.
"By putting this kind of infrastructure in place, our business community will be able to engage with local consumers directly without algorithmic filters, expensive advertising fees or commission charges."
The It's in Nottingham digital town hub won't just stop at a smartphone app. The team's intention is to connect other digital assets in the city centre too, so that residents can see information generated by the hub on screens on university campuses, in libraries and offices too.
Marcus Chidgey, CEO of Loqiva, explains, "Our platform makes city information available to the right people, at the right place, at the right time. This is vital to the effective delivery of everything from local commerce to public health and city mobility."
 "The new app will complement and enhance our social media and digital content by delivering information to consumers and businesses which will be more dynamic, more targeted and more personalised." says Andrew Napier, Marketing & Communications Manager at It's in Nottingham. "We're excited that the app will improve our digital footprint in the city centre, and beyond, something which our members have specifically asked us for. It will also allow us to build digital relationships between businesses and consumers, enhancing our place-making offer and generating civic pride and long-term economic growth."
 The It's in Nottingham digital city hub was  soft-launched to local businesses over the Summer. And as of August 2023, it's been fully launched to the public.
 For further information and images, please contact Barry Conlon at Loqiva on Barry.conlon@loqiva.com